Alright, so around here it went from Arctic conditions to sweltering like overnight.

Before Big L allowed me to put the a/c on...don't ask...I tried getting a shower and then blow drying my hair.

Uh...not pretty.

Then came the makeup application.

Uh...really not pretty.

I was sweating so much it was like why bother?

Anyway, here's some tips from Total Beauty on how to get your makeup to last. Read on...



Pro tips on keeping a fresh face -- even in sweltering hot weather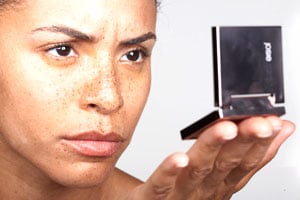 Making makeup last all day-- especially in hot, muggy conditions-- doesn't have to be a high-maintenance hassle. Follow these tips from pro makeup artists Charlie Green and Molly Stern and your look, whether natural or dramatic, won't melt away.
Jennifer and Christine